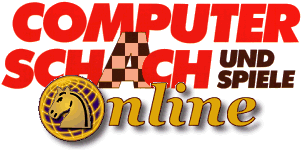 By
Wolfgang Stadik
Date
2008-12-04 22:40
Timothy Taylor hat in seinem 2005 erschienenem Buch "Bird's opening - detailed coverage of an underated and dynamic choice for White" seine Partie gegen Mestel ausführlich analysiert und kommentiert.
Zu dieser Stelung meint er:
"But this is where we need Hydra, or Kasparov! I have to admit that I simply can't answer the basic question of who stands better. I've been looking at this position for close to 30 years and I still don't know who 's better! My otherwise fearless Fritz is equally confused, if not more so."
Event:
Ort:
Datum:
Weiss:
Schwarz:
Ergebnis
Board
Was sagen die Programme heute, auf einem schnellen Rechner (den ich nicht habe)?
Grüße, Wolfgang

By
Kurt Utzinger
Date
2008-12-04 23:07
Engine:
Crafty 20.14
starting thread 1
starting thread 2
starting thread 3
                8     1.36   5.04   1. Qxa7 Rb6 2. Qd7 Qxd7 3. Bxd7 Rd6
                                    4. Bb5 cxd4 5. exd4 Rxd4+
                8->   1.47   5.04   1. Qxa7 Rb6 2. Qd7 Qxd7 3. Bxd7 Rd6
                                    4. Bb5 cxd4 5. exd4 Rxd4+
                9     2.02   5.04   1. Qxa7 Rb6 2. Qd7 Qxd7 3. Bxd7 cxd4
                                    4. exd4 Rd6 5. Bb5 Rxd4+
                9->   2.38   5.04   1. Qxa7 Rb6 2. Qd7 Qxd7 3. Bxd7 cxd4
                                    4. exd4 Rd6 5. Bb5 Rxd4+
               10     3.60   4.79   1. Qxa7 Rb6 2. Bd5+ Qxd5 3. Qxb6 Qxg2+
                                    4. Kc3 cxd4+ 5. Kb3 Qd5+ 6. Kb4 Nf3
                                    7. c4 dxc3 8. Nxc3
               10->   3.83   4.79   1. Qxa7 Rb6 2. Bd5+ Qxd5 3. Qxb6 Qxg2+
                                    4. Kc3 cxd4+ 5. Kb3 Qd5+ 6. Kb4 Nf3
                                    7. c4 dxc3 8. Nxc3
               11     5.34     -1   1. Qxa7
               11    10.99   4.31   1. Qxa7 Rb6 2. Qd7 Qf6 3. Bd5+ Kh8
                                    4. Qa4 Rd6 5. c4 Ra6 6. Qd7 cxd4 7.
                                    exd4 Qxd4+
               11->  13.99   4.31   1. Qxa7 Rb6 2. Qd7 Qf6 3. Bd5+ Kh8
                                    4. Qa4 Rd6 5. c4 Ra6 6. Qd7 cxd4 7.
                                    exd4 Qxd4+
               12    17.58   4.01   1. Qxa7 Rb6 2. Qd7 Qf6 3. Bd5+ Kh8
                                    4. Kc3 Rd6 5. Qb7 cxd4+ 6. exd4 Rfd8
                                    7. Bc4 Rxd4
               12->  19.58   4.01   1. Qxa7 Rb6 2. Qd7 Qf6 3. Bd5+ Kh8
                                    4. Kc3 Rd6 5. Qb7 cxd4+ 6. exd4 Rfd8
                                    7. Bc4 Rxd4 (s=2)
               13    25.59   3.71   1. Qxa7 Rb6 2. Qd7 Qf6 3. Bd5+ Kh8
                                    4. Nc3 Rd6 5. Qb5 cxd4 6. exd4 Qxd4+
                                    7. Qd3 Rf2+ 8. Ke1 Qc5
              time=38.48  mat=3  n=91002676  fh=93%  nps=2.4M
              ext-> check=7.4M 1rep=394K mate=14K reductions=3.7M/3.5M
              predicted=0  evals=71.0M  50move=0  EGTBprobes=0  hits=0
              SMP->  splits=3591  aborts=592  data=14/256  elap=38.48

Mfg
Kurt
Powered by mwForum 2.29.3 © 1999-2014 Markus Wichitill